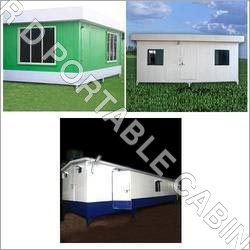 Site Office Portable Cabin
Product Code : SOPC 02
Product Description
We are a remarkable entity engaged in manufacturing and supplying the
Site Office Portable Cabin
. Our office structures are designed in sync with the international standards of quality. These are perfectly constructed by incorporating water resistant materials. Our structures can be easily re-erected and dismantled as per clients requirement. Widely used across many industrial sites, our advanced
Site Office Portable Cabin
can be customized as per the clients' specifications.
Features:
Resistant To Adverse Weather Conditions
Low maintenance cost & durable, long life & sturdy construction

Portable, Modern look & Light weight

Suitable for all types of weather conditions
Ideal for site office/mini office/office extension
Excellent thermal insulation
Abrasion Resistant, made with modular furniture with better finishing
Provide Customization as per client needs
Negligible Maintenance, Easy Installation and Corrosion resistant
Easy to assemble & disassemble
Quick Buyer Details
Product Name:
Site Office Cabin ( Portable type )

Product Code:
SOPC 02
Model Number:
RD SOPC 02
Brand Name:
R D PORTABLE CABIN
Business Type:
Manufacturer, Supplier
Hot Markets:
Indian markets
FOB Price:
Sent by mail
Minimum Order Quantity:
As per requirement
Payment Terms:
Cash in advance, before shipment, per-authorized payment, by credit card, etc.
Material:
Container
Use:
Portable Cabin, Portable Rooms, Portable Godowns, Portable Offices, Site Office Cabin

Size:
Customized
Color:
Multiple
Verified Supplier:
Trust stamp
Dimension:
Customizable
Window:
PVC sliding window, Tilt and turn window
Insulation Material:
EPS, PU, Rock Wool
Color:
Multiple
Door:
PVC door, Wooden door, Aluminum alloy door
keyword:
Site Office Portable Cabin
Production Type:
Automatic
Packaging & Delivery
Delivery Detail:
Timely delivery of consignments
Find Construction Details of Our Product : Click here
We are a remarkable entity engaged in manufacturing and supplying the
Site Office Portable Cabin
. Our office structures are designed in sync with the international standards of quality. These are perfectly constructed by incorporating water resistant materials. Our structures can be easily re-erected and dismantled as per clients requirement. Widely used across many industrial sites, our advanced
Site Office Portable Cabin
can be customized as per the clients' specifications.
Features:
Resistant To Adverse Weather Conditions
Low maintenance cost & durable, long life & sturdy construction

Portable, Modern look & Light weight

Suitable for all types of weather conditions
Ideal for site office/mini office/office extension
Excellent thermal insulation
Abrasion Resistant, made with modular furniture with better finishing
Provide Customization as per client needs
Negligible Maintenance, Easy Installation and Corrosion resistant
Easy to assemble & disassemble
Quick Buyer Details
Product Name:
Site Office Cabin ( Portable type )

Product Code:
SOPC 02
Model Number:
RD SOPC 02
Brand Name:
R D PORTABLE CABIN
Business Type:
Manufacturer, Supplier
Hot Markets:
Indian markets
FOB Price:
Sent by mail
Minimum Order Quantity:
As per requirement
Payment Terms:
Cash in advance, before shipment, per-authorized payment, by credit card, etc.
Material:
Container
Use:
Portable Cabin, Portable Rooms, Portable Godowns, Portable Offices, Site Office Cabin

Size:
Customized
Color:
Multiple
Verified Supplier:
Trust stamp
Dimension:
Customizable
Window:
PVC sliding window, Tilt and turn window
Insulation Material:
EPS, PU, Rock Wool
Color:
Multiple
Door:
PVC door, Wooden door, Aluminum alloy door
keyword:
Site Office Portable Cabin
Production Type:
Automatic
Packaging & Delivery
Delivery Detail:
Timely delivery of consignments
Find Construction Details of Our Product : Click here